---
Posted by Nancy Boevingloh on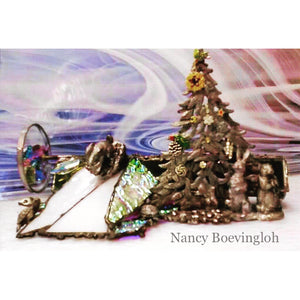 #6 Frog Ballet   #19 Apartment for Rent on planet Earth   #25 Let the Games Begin   #25 Doggie Den of inEquity   #37 Ice Fairy with Wolf  
---
Posted by Nancy Boevingloh on
  ...back in the early 90's when I had only been doing glass for a few years, I knew that I wanted to do a Harley-Davidson stained glass piece. It was a difficult time in my life, where I struggled daily with physical abuse from my ex-husband, and each day was just so hard. The emotional abuse was as bad as the physical abuse. In the early years I wasn't allowed to have any friends and was always alone. He was such a sick bastard that he would literally take the phone, radio and tv with him when he went...
---
Posted by Nancy Boevingloh on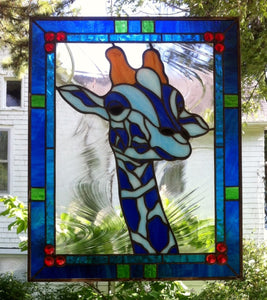 One of my favorite pieces thru the years to make was this blue giraffe panel for a customer on the east coast. When he asked if I could do a blue giraffe I was instantly, 'Omg, yes, yes! I'd love to do a blue giraffe!' I used amazing old world Kokomo glasses to really make it pop; in a beautiful mix of cobalt blue, turquoise, blue and green streaky glasses for the border, two beautiful blues for the giraffe and added rare Czech double faceted red glass jewels in the corners. Enjoyed this piece a lot and I really missed it...