---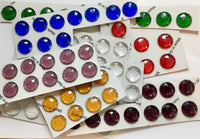 Whenever I make a stained glass piece if I can put a jewel in it, I do! Faceted glass jewels are always great to add that special 'zing' to projects. What I love about them is that when light is transmitted thru a jewel there are literally dozens of rays of light! It's the same principle as with bevels. Each facet of a jewel or a bevel becomes a possible point of light.
This listing is for the 15mm faceted flat backed glass jewels available in Clear, Gold Pink, Red, Cobalt Blue, Turquoise, Teal, Violet, Amethyst, Emerald Green, Light Amber and Black. 
Each purchase is for one glass jewel.