---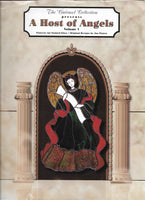 This listing is for the wonderful "A Host of Angels - Volume 1" stained glass pattern book from The Carousel Collection. These six large angel patterns are derived from the original Carousel Collection of the huge 30"+ angels. They were so popular that The Carousel Collection created matching smaller angels that have a lower piece count and average in size 18" - 20" size.

These full-sized patterns are ready to pull right out of the folder. There isn't a need to blow them up, they're already perfectly sized.


Considered new/old stock and is in very good condition.