---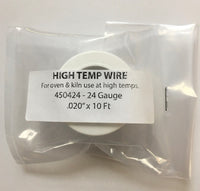 This listing is for a general purpose wire that remains strong in extreme heat of kiln firings and withstands high temperatures for long periods. Spool contains 10 feet of 24 gauge wire.
I use this wire when I make windchimes or need to fire a hanger into the glass. It's a thinner gauge then my other listing of the 17 gauge high temp wire, and definitely my favorite! A must have for glass fusers!
*Fusing Tip: To make hangers simply wrap wire around something that is the size of the hanger that you want. Personally, I use a pegboard hook. It's the perfect size for hangers. :) Wrap the wire about a half dozen times. Then, pull off and using cutters simply cut thru all six wires. You'll be left with a perfectly round, ready to use hanger. Never try to attach a hanger to the top of glass. It must be sandwiched in between two pieces of glass in order to work. Use a fusers glue to attach it to the bottom piece of glass being sure to leave half of the hanger outside the glass area. Then, add the top piece of glass and fire. You'll be thrilled with the finished pieces!