---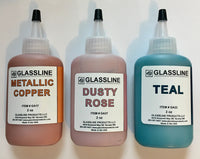 Glassline fusing paints are a terrific way to experiment with painting and fusing. Simple in design, easy-to-use Glassline paints are a lining and shading product for glass. Glassline may be applied in between multiple layers of glass or on the surface for a complex dimensional look. To further explore your creative edge, spray Glassline to achieve subtle shading variations. Compatible with most types of glass, from float to 90 and 96 coe. Best fired to 1500 degrees, but may be fired lower or higher. Lead free and food safe. Colors are opaque. May be spray painted by mixing with water to suit.
This listing is for a set of three Glassline Paints in Metallic Copper, Dusty Rose and Teal. Perfect colors for southwest style shading which aids in creating a natural, realistic look to your glass fusing endeavors. Added savings by buying in multiple quantity too.
Note: As mentioned above, these are glass paints that are to be used in the kiln. As they are water based, if they are not fired in a kiln they will not be permanent.